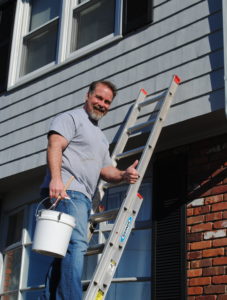 Bianchi Painting is a local painting company, founded by a New England native and a Northeastern graduate. After starting in 2011, we've grown quickly across the Southern New England area from Canton and on into Rhode Island, painting over 200 homes. Bianchi Painting is a premier, fully insured painting contractor in Rhode Island and Massachusetts. We have built a strong reputation based on our quality of work and customer service. Our reviews and testimonials prove this. When you hire Bianchi Painting for your residential or commercial painting project, we will not leave your project until you are satisfied. Each job and each client is important to us, from the preparation to the conclusion of your service. If you are looking for painting contractors in Providence, then give us a call for a free painting estimate
Interior Painting Services
If your home or business sports a shoddy interior paint job, you'll have a hard time enjoying your time spent in it. More so, your indoor air quality will suffer, causing your health to suffer.
Don't let a shoddy interior paint job ruin your enjoyment or your health. Instead, call us for a quality interior painting. We work quickly yet thoroughly to provide a quality interior painting that will keep your home or business looking its best for years to come.
Exterior Painting Services
A home or business that has a flaking, worn-out exterior coat of paint will lose a significant portion of its value and curb appeal. This will prove to be a headache should you ever look to sell your property.
If a bad exterior paint job is hampering your ability to get the best price for your property, call us for a home exterior paint project. For a great price, we'll get your home or business looking good, helping you to command the highest possible price for it when it comes time to sell.
Want to get your painting project done fast? Call Bianchi Painting: